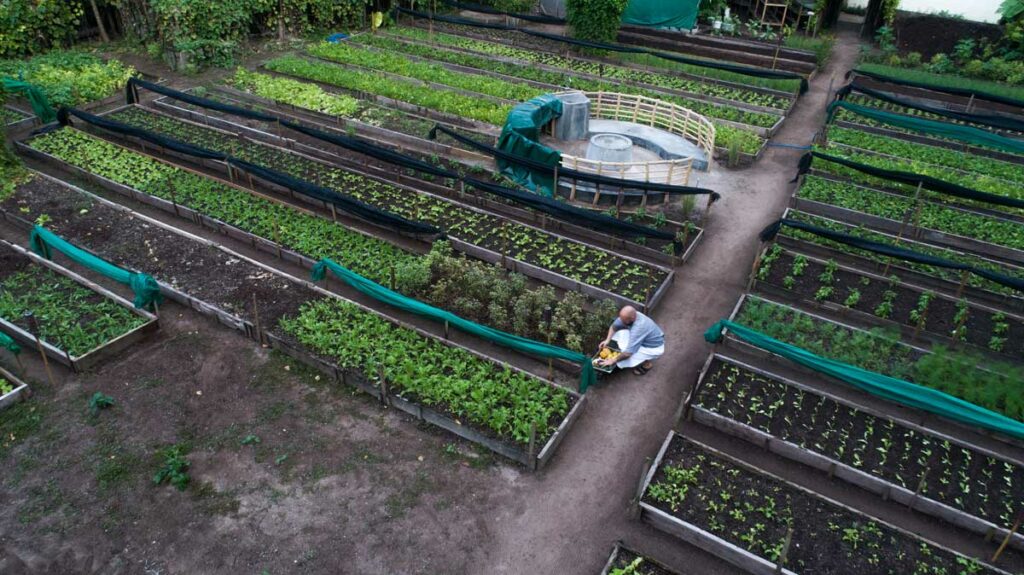 A Food Adventure has started
I'm in collaboration with Soneva Fushi. Building the vegan restaurant Shades of Green in their organic vegetable garden. We want to tap into the global movement that places an emphasis on fresh, organic, and local produce as being important for a healthy lifestyle, while also being a climate-conscious choice in keeping with Soneva's values.
Vegan organic plant-based
Nordic cooking techniques
Cultivating Umami
Vegan kitchen
A vibrant plant-based food experience celebrating the Maldivian home grown organic produce of Soneva Fushi, and the flavors of Southeast Asia utilizing Nordic cooking techniques to intensify flavors and cultivate Green Umami. 
Shades of Green Menu
The menu celebrates the garden and the season revolving around colours (red, green, yellow), green umami (the fifth basic taste) or around one vegetable prepared in multiple ways. Exploring ingredients though the colours.
Yellow – Turmeric, Yuzu, Pineapple.
Red – Beetroot, Pomegranate, Chili
Green – Spirulina, Pandana, Morning Glory
Each menu has six courses with dishes falling under cleansing, crispy, raw, grain, fire and sweet. There will also be a cold press of the day, flavoured lemonade, fragranced iced tea, and cocktails. Examples of menu items include aloe vera nam jim, red quinoa porridge, and screw pine fruit lemonade.
Soneva Fushi Press
For further information about the Soneva Fushi Shades of Green project, please contact
Terry Dehdashty
PR and Social Media Manager
Marketing & Communications
Soneva
19/F Two Pacific Place, 142 Sukhumvit Rd., Bangkok 10110, Thailand
T: 66 (0) 2631 9698 | F: 66 (0) 2631 9699 | E: media@soneva.com | www.soneva.com
SHADES OF GREEN, SONEVA FUSHI
The barefoot luxury resort of choice for celebrities including Madonna, Paul McCartney and the Beckhams, it's no surprise that Soneva Fushi's dining options are among the very best in the Maldives.
Choices on this private island include sushi restaurant So Hands On, an eight-seat private dining space developed in a partnership with three Michelin-starred Japanese chef Kenji Gyoten.
And then there's Shades of Green. As the name suggests, the focus is on plant-based cuisine and diners begin their tasting menu by chef Carsten Kyster with a tour of Soneva Fushi's extensive gardens, where snacks are hidden amongst the foliage.
The bounty of produce surrounding diners is then crafted into five impressive gourmet courses. CNN Travel
Contact me
If you have questions, want to book a meeting or have an idea for a project; I would love to hear from you. Fill out the simple form below and I will reply to you as soon as possible.