Grilled beets with Miso butter
Miso is a traditional Japanese pasta, which is primarily made from fermented soybeans and is packed with vitamins, proteins and minerals. Miso adds umami flavor and is available in different varieties, but the longer the miso has fermented, the stronger the umami taste.
If you do not like beets, try the miso butter with baked celery or other roots instead.
FOR 4 PEOPLE
WORKING HOURS: 35 MIN.
TOTAL TIME: 1 T.
600 g large oblong beets
2 tbsp. vegetable oil
salt
black pepper
50 g pomegranate seeds
20 g coriander
miso butter (see recipe at the bottom of the page)
Wash and clean the beets.
Halve the beets lengthwise.
Scrape the beets all the way down into cubes to a depth of about ½ centimeters. Brush with oil, and season with salt and pepper.
Grill the beets on a hot grill pan for approx. 20 minutes, until tender, turning them regularly. You can also bake them in the oven.
Serve the grilled beets on a plate, sprinkle with pomegranate seeds and coriander, serve with miso butter.
Miso butter
FOR 4 PEOPLE
WORKING HOURS: 10 MIN.
TOTAL TIME: 1 T.
100 g vegetable butter, soft
2 tbsp. dark miso
2 tsp. black sesame seeds
Stir it all together well and season with miso.
Refrigerate until serving.
The recipe was published in Politiken / Spis & Bo / January 2021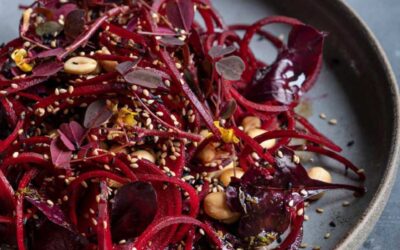 Beetroot spaghetti with soy / lime dressing.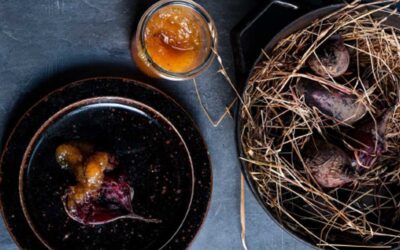 Eat the baked beets with quince puree or sour cream and good bread as an appetizer.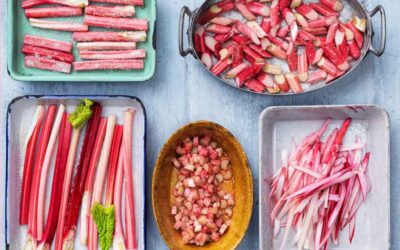 Basic recipe for baked rhubarbIn the sweet kitchen, add 10 tablespoons of sugar, for a dish in the salty kitchen, use 5 tablespoons.